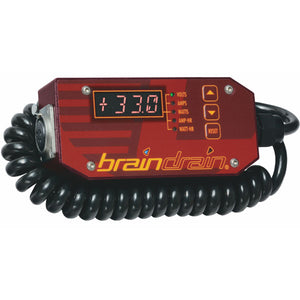 BrainDrain® Super Smart Cable
Lentequip is pleased to introduce the ultimate smart cable. The BrainDrain is connected in-line with your battery (or charger) to give you vital information unlike any other device. Key features include:
Direct Voltage measurement
Displays actual voltage reading from the connected battery.
Live Current& Watt measurement
Shows instantaneous amperage or wattage draw from connected equipment.
Accumulated Amp-Hour and Watt-Hour calculation
Most unique to the BrainDrain is its ability to calculate the accumulated Amp-Hours and Watt-Hours drawn from the battery from the point of
RESET
. This measurement can also be made when connected to a charger to measure the amount of energy that has been stored into the battery during the charging cycle. Internal coin cell battery back-up ensure that the calculated values are not erased until the user resets them.
Current Flow Direction Indicators
Since the BrainDrain does not care which way the current flows through the device, we have implemented small LEDs above the BrainDrain logo to show the user the direction of the current flow.
Auto Scan mode
When initiated by the user, Auto Scan Mode will automatically cycle through all the measurements without the necessity to press any buttons. This allows remote viewing of all the parameters without the need to switch modes manually.
Dual 15A in-line fuses
Externally accessible 15A fuses provide additional user protection.
Flexible curly cord
Premium stretchy cord provide for flexible connection.
USB 2.0 Interface
The incorporation of the
USB
interface into the BrainDrain allows Lentequip to provide a flexible device that will allow it to be connected to a computer for future product development. This interface also will allow the user to upgrade the operating software of the BrainDrain when revisions become available.
Other Specifications
| | |
| --- | --- |
| Input Voltage | 10-50V |
| Polarity | Dual (ARRI and Panavision compatible) |
| Measurements | Volts, Amps, Watts, Amp-Hrs, Watt-Hrs |
| Fusing | Dual 15A |
| Indicators | Current flow (blue LEDs) |
| Connectors | 3 or 4 pin XLR |
| Computer Interface | USB 2.0 for firmware upgrades |
Resources
"The BrainDrain is a fantastic product. I've never had any kind of device here that would diagnose the health of my batteries. Before your product I would have to take complaints from camera assistants and clients when batteries would fail. Now that might be a thing of the past as the BrainDrain enables me to keep a more accurate read of my inventory and service problem batteries before they go on the job. Bottom line, the less complaints I receive, the happier technician it makes me."
Tim Coughlan
Senior Technician
Rule Boston Camera
www.rule.com