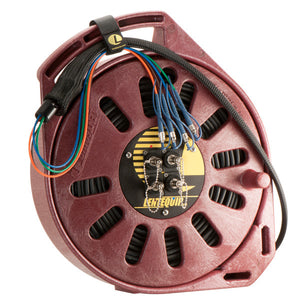 Tactical Fibre Optic Reel, ST/LC
Meet the newest member of our cable reel family.  The LR-4ST61 and LR-4LC61 four channel 61 meter ST or LC cable reel featuring the finest tactical cable available.  It's like having 4 cable reels in one with no bandwidth limitations - it's the Any "K" Reel!
The LC version can also be ordered in an 8 channel configuration!
Partner this reel with our transceivers and you can benefit from sending signals bidirectionally along the length of the cable. The fibre cable has a 9um core size and is suitable for wavelengths of 1310/1550nm.  Maximum attenuation is 0.5dB/km which is negligent in this application.
The fibre jacket is made of flexible polyurethane that is pressure extruded and allows the pulling device to be attached directly to the cable jacket.  The dielectric construction requires no grounding and its smaller diameter and low bend radius allow for easy deployment in space constrained areas.
An innovative metal strain relief ensures a strong fanout which is also protected by a braided mesh - this is a good place from which to pull the cable out of the reel (never pull the cable from the connectors)!
This reel can be ordered in ST or LC versions (or a combination of both upon request). Transceivers can also be ordered as part of a discounted package when bundled with the fibre cable reel!